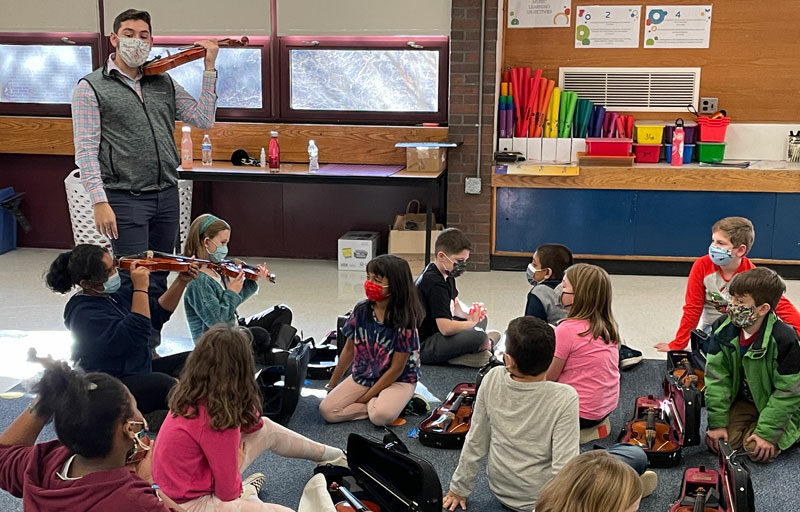 Harrington School Music Teacher Matthew Buono Performing at 2021 Holiday Pops
in Newsletters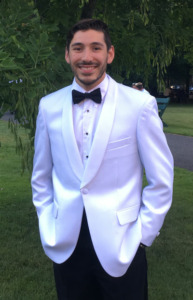 Tanglewood Festival Chorus enjoying first live performances since February 2020
WATCH: Holiday Pops perform:
CHELMSFORD, MA (Dec. 20, 2021) – Forgive Matthew Buono if he seems a bit distracted this time of year. Or if he needs to leave right at dismissal time. Or if he might sound a little hoarse. It's his busy season, what he calls the 'Holiday Pops' run.
For those outside Chelmsford's Harrington Elementary School who may not know, Mr. Buono is in the midst of nine shows in 23 days with the Tanglewood Festival Chorus, the residential choral ensemble for the Boston Symphony Orchestra and the Boston Pops, at Symphony Hall in Boston.
And if he's excited, he has every reason to be. The Holiday Pops run of 2021, which began on Dec. 2 and runs through Dec. 24, marks the first time the TFC has performed live, in-person since February of 2020.
"It feels great," Mr. Buono said. "It's great that we were able to do virtual ensembles and recordings, but getting that feedback from the audience, to hear everything as it's happening, it's amazing. I'm glad we're able to go back to live performances. It's good to see the audience has kept its interest."
While the TFC is in its 51st season, Mr. Buono has been a member for five years and has performed more than 50 times with the Pops and BSO, both at Symphony Hall and choral residencies at Tanglewood. He first auditioned for the TFC in the fall of 2016 – a competitive and rigorous process – during his senior year at the University of Massachusetts Amherst, but fell short of the cut.
"I thought I did well, but unfortunately, it wasn't good enough," he noted.
Mr. Buono auditioned again 13 months later, submitting a pre-recording which earned him an in-person audition. As part of his audition, he performed the folk tune, "Tideo," a song that he uses in his music class, and underwent a series of ear training exercises.
Two weeks passed before Mr. Buono received the call from TFC Conductor James Burton who not only extended the invitation to the TFC, but added that he was needed right away. "It was so close to the Holiday Pops, and he offered me a spot," he recalled.
Mr. Buono is one of just over 200 members of the TFC, which has members nationwide. They are teachers, CEOs and regular folks who simply enjoy choral music. Because of the proximity to Symphony Hall and Tanglewood in Lenox, Mass., however, he is regularly called upon for performances.
The fact that his first audition was unsuccessful is a lesson he has always shared with his classes. "It's always good to think about what I did that was great, but also what I need to work on," he said. "It's good to go into it with an open mind."
As a result of the Covid-19 outbreak, the emphasis to individually rehearse is much greater to reduce the frequency of group meetings. Mr. Buono spends at least 30 minutes each day working on the slate of songs which the BSO, Pops and TFC perform, such as The Good News Voyage and Soldier's Carol. They also perform traditional Christmas carols, such as We Gather Together and The 12 Days of Christmas, on which Mr. Buono works as diligently as the others.
"Our conductor has done a great big push for the TFC to have a larger presence within the BSO organization," Mr. Buono noted.
Viewers can purchase a range of passes to view the 2021 Holiday Pops performances at BSO.org.
About Chelmsford Public Schools
The Chelmsford Public School District provides all students with multiple pathways to optimize their own potential for academic excellence, leadership, and social and emotional wellness. The mission of the Chelmsford Public Schools is to educate, engage, prepare, and empower well-rounded and knowledgeable learners to PERSEVERE through challenges, demonstrate RESPECT and INTEGRITY in their words and actions, are DEDICATED to their community, and display EMPATHY as global citizens while discovering and pursuing their full potential.  This PRIDE-driven culture enables all members of the school community to support the growth and development of students.  For more information, please visit www.chelmsfordschools.org.