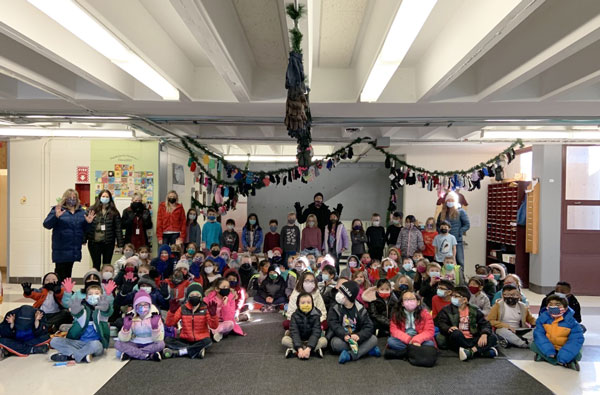 Harrington School Second Graders Provide Warm Donation to The Wish Project
in Newsletters
Second grade students donate 349 pairs of gloves and mittens
CHELMSFORD, MA (Jan. 6, 2022) – Thanks to Harrington Elementary School second graders, nearly 350 pairs of hands around the Merrimack Valley will be warmer this winter.
The second graders at Harrington collected and donated 349 pairs of gloves and mittens to The Wish Project, an agency that provides basic needs and critical, immediate assistance to residents of the Merrimack Valley, on Thursday, Dec. 23.
"One of the Harrington second grade standards is community, so it's all about learning about the needs and wants of our community," said second grade teacher Janet Hoffman. "It's a nice way to tie it in with our curriculum and give something back."
After last year's absence due to the Covid-19 outbreak, the Harrington School second graders and teachers resumed the drive for the fourth year and far exceeded the 2019 drive, which generated 290 pairs of gloves and mittens.
The Harrington School second graders were involved in every stage, creating posters and making announcements on the school public address system. From Dec. 1-17, they dropped off donated gloves and mittens (as well as a few hats) into a drop box in the school lobby. Each day teachers hung the donations on green garland, called the 'Garland of Giving,' so that students could see how much they accumulated.
"They were very involved in the process," Ms. Hoffman said. "Our second graders would check the box every day to see how many came in. One family donated 50 pair, all different sizes. Hats came in too, although we didn't ask for them."
Ms. Hoffman, along with her second grade teaching colleagues Courtney Malcolm, Beth Coddaire, Steve Wurtzler and Kaitlyn Nagle, delivered the donation to The Wish Project on Dec. 23 in full Christmas garb.
"It's eye opening," said Ms. Hoffman. "We have so much gratitude for the people who work there."
The Wish Project, located in North Chelmsford, provides local residents in need with basic furniture, home goods and baby goods, while helping the planet by recycling used items. To find out more about The Wish Project or to donate, visit thewishproject.org/ways-to-give/.
About Chelmsford Public Schools
The Chelmsford Public School District provides all students with multiple pathways to optimize their own potential for academic excellence, leadership, and social and emotional wellness. The mission of the Chelmsford Public Schools is to educate, engage, prepare, and empower well-rounded and knowledgeable learners to PERSEVERE through challenges, demonstrate RESPECT and INTEGRITY in their words and actions, are DEDICATED to their community, and display EMPATHY as global citizens while discovering and pursuing their full potential.  This PRIDE-driven culture enables all members of the school community to support the growth and development of students.  For more information, please visit www.chelmsfordschools.org.