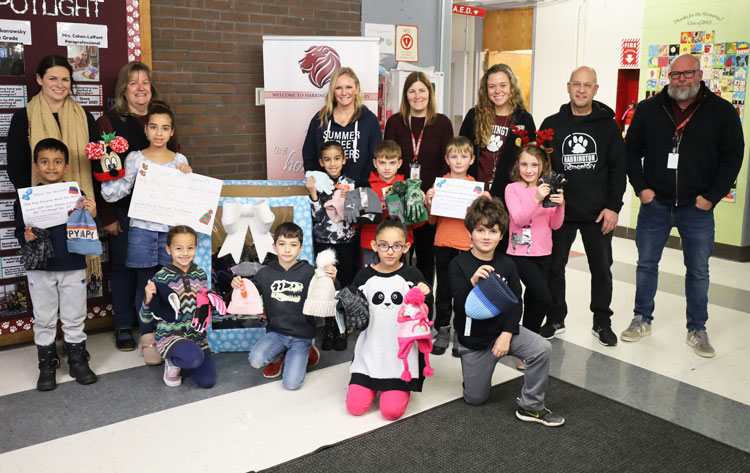 Harrington School's 'Share the Warmth' Drive Amasses 447 Pairs of Winter Gloves, Hats for The Wish Project
in News
'Share the Warmth' donations exceed 2021 by nearly 100
CHELMSFORD, MA (Jan. 20, 2023) – Keeping warm during the harsh New England winters is a perpetual challenge for some more than others. It has, however, been made a little easier for folks in the Merrimack Valley in recent years by the students at Chelmsford's Harrington Elementary School.
Harrington students amassed 447 winter hats and pairs of gloves and mittens between Dec. 1-23 in its fifth annual Share the Warmth drive to benefit The Wish Project, an agency in North Chelmsford providing basic necessities and critical assistance to families throughout the Merrimack Valley.
The outpour of donations exceeded the 2021 drive of 349 items by nearly 100.
"We were thrilled that we far exceeded last year's goal by collecting almost 100 more items to help keep people warm," said Janet Hoffman, who spearheaded the effort alongside her grade 2 colleagues Beth Coddaire, Courtney Malcolm, Kaitlyn Nagle, and Steve Wurtzler. "It was heartwarming to watch the Harrington School community of students, families and staff come together and show this outpouring of generosity toward others. Our students were so excited to drop their donations into our big box and watch it fill up over the weeks of the project."
The hats, gloves and mittens were delivered to The Wish Project on Thursday, Dec. 23, by Ms. Hoffman and the grade 2 staff in what has become a tradition: Ms. Hoffman, Coddaire, Malcolm and Nagle dressed in reindeer costumes and Mr. Wurtzler as an elf.
To solicit donations, second grade students created posters advertised throughout the school while two students from each of the five second grade classrooms reminded students and staff in the daily morning announcements.
In previous years, the Share the Warmth drive – previously named the Garland of Giving – only called for gloves and mittens, but a plethora of hats were collected last year and are now a welcome and necessary part of the effort.
"We truly appreciate all of the support that our entire school community provided to make this annual second grade community service project such a huge success year after year," said Ms. Hoffman. "The folks at The Wish Project were so grateful for our contributions and reminded us how important the generosity our school is to our greater Chelmsford community."
About Chelmsford Public Schools
The Chelmsford Public School District provides all students with multiple pathways to optimize their own potential for academic excellence, leadership, and social and emotional wellness. The mission of the Chelmsford Public Schools is to educate, engage, prepare, and empower well-rounded and knowledgeable learners to PERSEVERE through challenges, demonstrate RESPECT and INTEGRITY in their words and actions, are DEDICATED to their community, and display EMPATHY as global citizens while discovering and pursuing their full potential. This PRIDE-driven culture enables all members of the school community to support the growth and development of students. For more information, please visit www.chelmsfordschools.org.